The Project


Saïda is an important centre for Lebanese archeology, (The Sea Castle, Saint-Louis Citadel, The Great Mosque, The Temple of Echmoun etc). However, no attention has been paid to the history and urban setting of the town itself with its wealth of culture. The transformation of the building into a history museum should assist in the understanding of a complex urban environment, by giving everyone an opportunity to live out their own history against the changing backdrop of the town.

This museum will be the first in Lebanon to present the history of a town and we shall be emphasizing its pedagogic and didactic role.


Les Souks - 1860
However, whilst the palace is preparing to live again as a "Museum", its original vocation was -and remains- to serve as a pleasant place to be, to converse, to meet, to create …

It is planned to present the history of the town in the museum. There will be exhibitions of artifacts, texts, documents, and manuscripts, all selected and displayed with great scientific rigour and with due respect for the history of the monument and its site.

The value and impact of a museum on a visitor is not restricted to "lessons learned" on the spot. A museum visit lasts well beyond the actual time spent within its walls; it endures for as long as the visitor remembers and relives the experience in different contexts and different circumstances.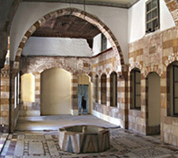 We would hope that the visitor will decide to come not for a specific purpose, topic or exhibition, but rather for a whole variety of reasons: a feeling, an appreciation of a place where the visitors themselves (not the objects on display) are at the centre of the museum experience.

We wish this to become a museum whose worth is measured by the opportunities for action offered within its walls, not by the walls themselves, beautiful though they may be.


We want to make this a living space.
Top of the page