Chronology


Some key dates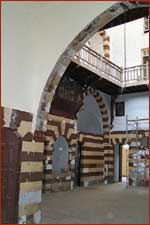 1722 The Hammoud family takes up residence in the palace.

1800 Youssef Debbané purchases the palace from the Hammoud family.

1968 The palace is designated a historic monument.

1978 until 1983 The palace is occupied by armed units causing damage to the interiors and the dilapidation of many rooms.

1999 The heirs of Georges, François and Jean Debbané together with Marie Debbané-Naggear relinquish their rights of ownership in favour of the Debbané Foundation.

2000 The Foundation undertakes dampproofing and cleaning of the palace to preserve its historical and artistic assets.

2001 On the occasion of the Unesco seminar in Saïda the palace is opened to visitors. At the same time studies and research are begun with a view to having the palace designated the Saïda History Museum.